GREED: FROM GORDON GEKKO TO DAVID HUME, by STEWART SUTHERLAND
HAUS CURIOSITIES SERIES
In a riveting scene in the film Wall Street, Gordon Gekko proclaims, 'Greed is good'. The great philosopher David Hume, on the contrary, describes greed as the most destructive of the vices. The banking debacle and the continuing row about bonuses has placed the controversial issue of greed at the very heart of how we view our society. Is Gekko's maxim merely in need of some moderation? After all, incentives are essential to achieve results. Or is it Hume who, uncharacteristically in this instance, lacks moderation? His claim be greed is 'directly destructive of society'. Can this be true? This example of Hume's reasoning illustrates very clearly his attachment to the idea of 'a science of man' rather than religion or sentiment as a basis for moral, social and political practice. Sutherland examines this science and questions its practical applications for the modern age.
Stewart Sutherland has been a Crossbench Peer since 2001, with special interests in education, care needs and research. Prior to that he served as Vice Chancellor of the Universities of Edinburgh and London, as Principal of King's College London, and as Her Majesty's Chief Inspector of Schools.
Publication Date: Oct. 2014
RRP: £7.99
96 pp
PB
ISBN: 9781908323798
eISBN: 9781908323804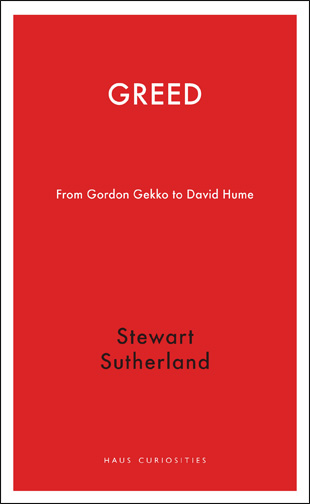 'A dense and thought-provoking read'
– The Independent
'a brief but powerful look at the history of avarice in society'
– Times Higher Education
'Sutherland writes with evident passion, condensing his argument into a forceful text'
– New Statesman
'[A] series of nifty little essays – the thinking person's commuting read'
– The Independent on the Haus Curiosities series
'Haus is to be congratulated for its courage in dusting off the political pamphlet format and publishing a series of essays, short enough to be read in one sitting, in the internet age'
– Times Higher Education on the Haus Curiosities series