BEALPORT
A NOVEL OF A TOWN
by Jeffrey Lewis
'A hugely satisfying read.'
— Nick Curtis, Evening Standard
'Best new fiction of the year . . . Lewis has created a rich tapestry of life. In lean poetically precise prose he lays bare the realities of a town in decline and reveals the fears, secrets and aspirations that animate ordinary lives. This highly accomplished novel is a moving and humane portrait of smalltown America, a vision of Trump's republic in miniature.'
—Simon Humphreys, Mail on Sunday
'Comprising short vignettes, the book aims to capture to character and consciousness of Bealport itself, flitting between individual lives, mock sociological overviews and the commentary of a Greek chorus of characters who meet at McDonald's for their pre-shift breakfast. . . The portraits of the townspeople are endearing, drawn in well-chosen, economical details . . . The story is tightly and neatly constructed, and the hermetic nature of Bealport––where people live for the demolition derby, snowmobiling playoffs, the annual seaside picnic and the dignity of a day's work––is deeply appealing, drenched in sympathetic nostalgia, folksy charm and pithy one-liners.'
—Kim Fu, TLS
'In the small town of Bealport, Maine, Jeffrey Lewis has rendered a sharp and fascinating "Our Town," the community captured in its rough simplicity and broody with personal secrets. In deft command of their lives' interconnectedness, Lewis roves amongst Bealport's residents, entwined and reliant as only those living in a very small town can be, an attentive and welcoming storyteller with a fine Old New England sensibility.'
—David Milch, creator of Deadwood
'With his beautifully written Bealport, Jeffrey Lewis has masterfully woven friction between social classes, a fading industrial town in Maine, opioid addiction, sexual scandal, financial machination, and the making of a good pair of shoes into a quilt of such subtle colorations that the reader is surprised and even shocked by their force–a stunning and heartbreaking depiction of America today.'
—Peter Davis, author of Girl of My Dreams and director of Hearts and Minds
'Bealport reveals to us all the angst and joy in small town, working class America and does it in a readable, but never simplistic, style which carries us from the first page to the last. The characters are fully drawn with tremendous understanding, humor and empathy. Mostly they are poor in riches but rich in spirit. Brilliant and, above all, thoughtful and kind. Read it. I think you'll love it.'
— Robert Ward, author of Red Baker and Four Kinds of Rain
'Though Lewis's tone is measured, plenty of righteous anger lies just below the surface. It's the little details that make this novel sing, however – and it's what makes its conclusion that much more crushing, however inevitable.'
— Tobias Carroll, Portland Press Herald 
An old shoe factory in a costal New England town is up for sale again. When a private equity mogul with a fondness for the factory's shoes buys it, he sets in motion a story with profound implications for the way we live today. The people of Bealport depend on Norumbega. Their livelihoods, their self-respect and their interconnectedness are all at stake. The shadow of the factory's fate looms over the people of the town. Idiosyncratic and humane, the cast is the kind that small communities under threat produce. Bealport is a portrait of a place, at once sympathetic, mordant, unsparing, comic, tragic and universal, and of a way of life that is passing. It is a novel of a town, and to no small degree of every town in America and beyond.
Jeffrey Lewis has twice won the Independent Publisher Gold Medal for Literary Fiction as well as two Emmys and the Writers Guild Award for his work as a writer and producer of the critically acclaimed television series Hill Street Blues. He is the author of Meritocracy: A Love Story, Adam the King, The Conference of the Birds, Theme Song for an Old Show, Berlin Cantata and The Inquisitor's Diary.
Publication Date: 16 April 2018
RRP: £14.99
220 pp
HB
ISBN: 9781912208005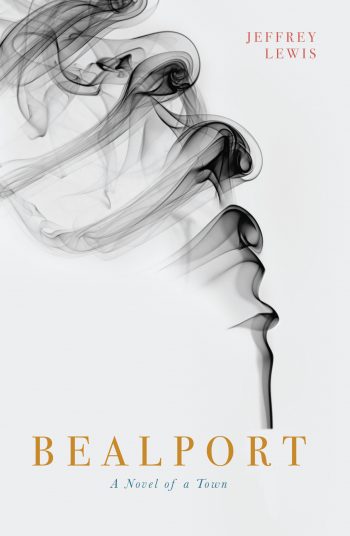 BUY
Alternatively, support your local independent bookshop. Find the nearest independent to you.